When you're crafting your resume as a content writer, keep in mind that it will be your 'first sight' impact on the would-be employer. Display your individuality, skills, and knowledge of the niches you write in. Your resume must convince the potential recruiter as to why you are the person they are looking for. So, how to save your resume from getting lost in the crowd? Here's a fool proof guide to create a standout content writer resume.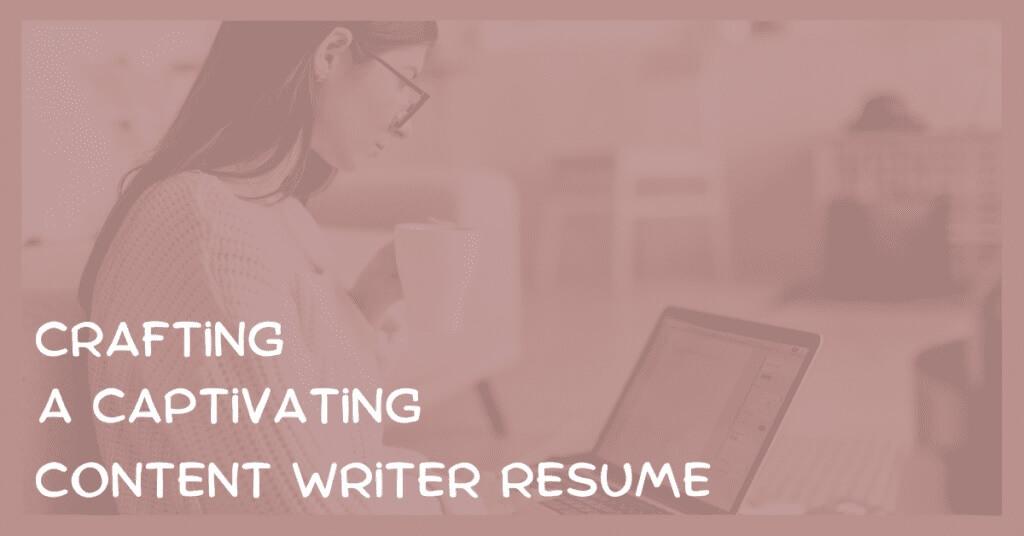 Display Your Content Writing Skills and Strengths
It is of utmost importance as a content writer, to be able to adopt different writing styles, tones, and parlance as the need be. Does your resume demonstrate the same? That said, your resume must also exhibit your knowledge and experience of different kinds of online editors, on-page and technical Search Engine Optimization, and CMS platforms. Being able to handle the latest tools of content creation adds to your strengths. Also, showcase the awards won and certifications completed in the field of content writing.
Read more >> How to Become a Content Writer for Global Audiences
Mention the Experience That Counts
While creating the content writer resume, make it a point to add the part of your experience that is best suited for the targeted job position. Make a mention of the content writing jobs you've worked in, the niches you've covered, and the industry experts you've worked with. Don't forget to indicate your performance quantitatively. For example, " the number of writing projects completed last year, the percentage by which your SEO friendly posts increased organic traffic etc."
Check out this link to understand how to mention experience in your content writer resume.
Focus on Readability and Navigation
Create your content writer resume in succinct style using clear and crisp language. Readability is at its best when the headings are clear and the important points are depicted with bullet points. Allow sufficient white spaces in your resume to give it a pro look. Use a font style and size that is easy to read and grasp. Typical fonts used for official and legal purposes are 'Arial or Times New Roman/ size: 11 or 12'.
Present Your Appetite for Writing and Creativity
Everyone understands the value of imagination and creativity when it comes to content writing. So, include the samples of your work that show your creative potential. Further, indicate your hunger for writing by citing instances of completing voluminous content writing assignments ahead of the deadline. You'll do well to include a personalized statement that reveals your desire to be an efficient content writer. For example, "I keep a record of the new hacks I utilize to deliver quality content fast, the aim being to increase my writing productivity."
Use the Power of SEO
Last but not the least is the power of SEO you can use to increase the probability of appearance of your resume in search results. Place keywords related to the industry you are applying for, at specific points in your content writer resume. If you tweak the on-page SEO of your resume carefully before submission, your resume will rank a shade above other resumes. This enhances the possibility of getting noticed and getting selected by potential recruiters.
A Sample Content Writing Resume
Here is a typical content writer resume. Parts of the resume are intentionally kept blank so you can tweak it for yourself.
[Name]
[Address]
[Phone:] [Email Address]

Objective: To seek appointment as Content Writer at [

Company Name

] and apply my content writing and editing skills to create useful and actionable content.

Education:
Master of Arts in Social Science [

Institute Name/ University Name

] [

Year of Graduation

]
Certified Content Writer [

Content Writer Certification Program, Level, Course Name

]

Experience:

Content Writer,
At [

Company Name

] since[

Date

]
– Previous Company: [Company Name] [Worked from ____ to ____ ]
– Composed and edited blog posts, white papers and eBooks
– Optimized content regularly to support the digital marketing requirements of the company
– Led a content team to develop new content ideas
– Compiled an editorial calendar and devised a content strategy to deliver at least 3 blog posts every week

Freelancer,
– Worked for [ ____ , _____ , & ____ ] (Website Names)
– Carried out internet research and discovered 23 new content ideas last year
– Wrote 8 healthcare and wellness articles for [

Organization/ Company Name

] and 17 in the self-improvement niche for [

Organization/ Company Name

]
– Optimized 34 number of articles of other writers for on-page SEO in the last 3 months
– Communicated with clients verbally and also through emails and WhatsApp to understand and – solve their content related problems.

Skills:
– Writing SEO supported blog posts and articles
– Keyword research to discover content ideas with low-KD, high-search-volume keywords
– Crafting content at WordPress platform like writing guest posts for websites
– Social media content writing and formulation of content writing strategy

Reference: Shall be supplied on demand
Compensation: Negotiable
Enclosed: 3 content writing samples (One each in the niches of wellness, self-improvement, and academia)
(The above is only a sample to provide a gross idea of a content writer resume. The underlined details must be completed before submission. You may also improve the appearance of the resume by inserting colors and white spaces.)
Perfect Your Content Writer Resume
Apply the resume writing tips given in the article. Highlight your writing skills, experience, and expertise. Enclose copies or share links of some your works. Finally, fine-tune your resume to improve the look. Read it aloud to yourself at least twice and correct it for any kind of abruptness. That's it. Submit and reap the benefits of a well compiled content writer resume. Best of LUCK!