We have not yet discussed in write2rich how to write a good cover letter for a job seeker's resume. Before we discuss cover letter writing tips, it would be in the fitness of things to discuss cover letter templates.
For your resume to get shortlisted for a coveted job interview, it must first be selected for reading and scrutiny from among myriads of applications.
That's why it is of utmost importance to attach a resume cover letter. The accompanying cover letter serves the purpose of grabbing attention and citing your very purpose of submitting the resume.
It creates a good first impression and gets the contact person to read and consider the application positively. Shortly, we will come across a resume cover letter example.
Appreciation Letter Format and Examples- Write Them for 'Feel Good' and Motivation
What is the Purpose of a Cover Letter for Resume?
Whether you are writing a cover letter for internship, a job, or anything else, it's usually a single page write-up accompanying your resume.
It informs an employer about your
Purpose of application,
Particulars,
Skills and
Suitability for the job position.
A cover letter for your resume is necessary because
It acts as a supporting document.
It conveys your interest for the job.
An appealing cover letter makes the employer read your resume and consider you for the post.
It enumerates your skills and states your suitability for the post.
It tells the employer why you have an edge over other candidates.
Sections of the Cover Letter
Wondering what to include in a cover letter? The following sections are parts of every effective cover letter:
Your particulars
Initial greeting or salutation
Middle Paragraphs

Seek attention, create first impression
Core competencies and experience
Suitability for the opening
Call to action

Formal closing
Ideal Length of a Resume Cover Letter
As the resume is enclosed with the cover letter and it contains all the details regarding the caliber of the job-seeker, the cover letter is only a positive address to the potential employer and a statement of interest and core competencies.
The ideal length of a cover letter for resume should be one page containing 300-400 words split into 4-6 sections.
Crafting a Perfect Cover Letter: 3 Template Choices
There is nothing called a perfect cover letter and there is no perfect cover letter template either. But there are bad, good and the best ones.
There are charming cover letters too. These are the cover letters that cause an HR manager to pick them for reading from among thousands of them.
The good news is that there are formats or ready cover-letter-templates for writing unique and outstanding ones.
Here, I provide you three such templates with formats slightly varying from each other. I have intentionally created a partially filled (3rd one) template so you could gain an understanding of the shape of things you will be handling.
Formal Letter Format – Different Types With Examples
Cover Letter Templates
Template-1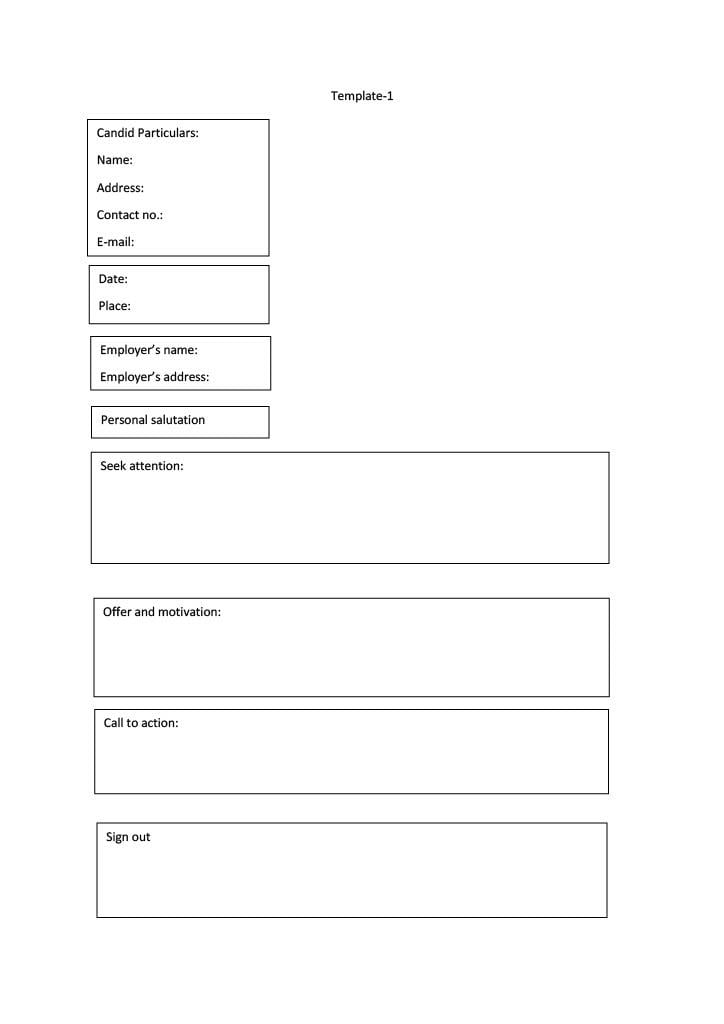 Template-2
Template – 3 (Partially filled)
Write Unique Cover Letters for Resume
As you have observed already, there are no strict guidelines for writing cover letters. You may tweak the formats as per your convenience.
Choose the template for your cover letter that suits you the best. I mean, go for the one that gives you ample space to highlight acumen and carve out your strengths.
I will go on editing and adding more unique samples as and when I come across more innovative ones. Till then, learning from the above, frame your own stand-out cover letter templates and write the best resume cover letters.
All the best. 👍👍
To read more articles on workplace writing >> Visit this page