Writing a formal letter is a craft and one should learn it because it becomes a necessity under various situations in today's world. You need to follow a format known as – formal letter format – in order to write a business letter, a letter to the principal of your college or one to the editor of a newspaper.
It's not difficult to learn how to write a formal letter but becoming a perfectionist at it, is.
You may write something like this:
We have informed about the situation to the head and requested to act on it.
However, a skilled hand sums up like this:
The concerned authority has been apprised of the situation and requested to take suitable measures.
Realized the difference? Writing more and more such letters meant for different purposes and occasions, enables you to acquire the necessary skills.
This post gives you typical formal letter formats – that you can use, with slight variation, under most occasions. It tells you what to fill where and how to explain your grievance or purpose in official language. Using the tips stated here, you'll be able to create a first impression and highlight your motive.
Must Read: Three Perfect Cover Letter Templates to Get Your Resume Read and Shortlisted Fast
What is a Formal Letter?
A formal letter is a written communication to or from an individual, company, institution, or organization for information, or a request for action in a predefined format with an appropriate choice of words. The language in a formal letter is expected to maintain the decorum of tone and voice.
Difference Between a Formal Letter and an Informal One
Whereas an informal letter communicates in a personal way, a formal letter informs or requests the recipient in an official manner.
There is no hard and fast format for an informal letter. The writer can choose any writing style and tone he likes. However, a formal letter is generally written in a prescribed format that renders it readable, comprehensive and impressive. For example, the font style and size are generally maintained Times New Roman, 12 but there is no such thing for an informal letter.
The language in a formal letter is limited to sound neither harsh nor flattering. It maintains a certain level of decency. On the contrary, you may choose to show your emotions in an informal letter to the extent you decide.
Appreciation Letter Format and Examples- Write Them for 'Feel Good' and Motivation
Three Formal Letter Formats With Examples
Here, we discuss formats for formal letters of three types, one each for sick leave, resignation and business purpose.
Sick Leave Formal Letter Format
A formal letter for sick leave contains the following
Date (Format followed in the office)

Designation and address of the recipient (e.g. General Manager, Projects, Cruxotee Works Ltd., Vizag)

Salutation (Sir/ Madam)

Subject (e.g. Sick leave due to fever and body pain)

Span of leave (e.g. 2 days/ w.e.f. June 3rd to June 5th 2020)

Reason for leave

Particulars of the substitute/ stand-in officer/relieving officer for the leave period

Closure (on a positive note)

Your name with HR No./ Employee No.

Current position

Your location in the office – chamber/ Cubicle/ Workstation

Enclosure: medical proof (certified by a physician)

Leave contact details (Address and email as above, Phone:xxxxxxxx)
A typical format for formal letter of sick leave request is shown below: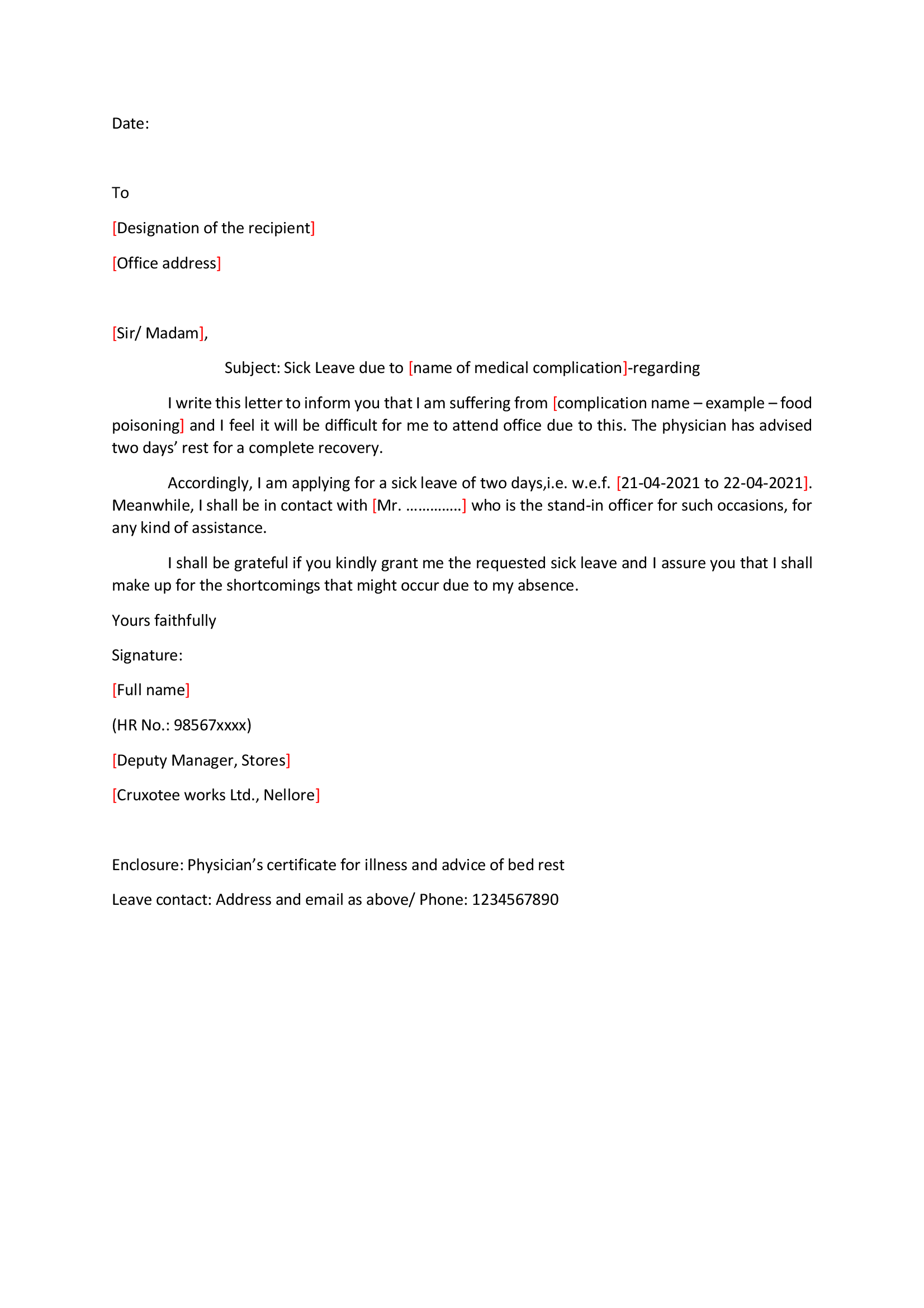 How to Write a Letter – For School Students (With Examples)
Format for Resignation Letter
When you have made up your mind to resign from the company you are working in, you need to submit a formal resignation letter. Writing trainers generally advise to keep a resignation letter simple and straight to the point. However, one should not forget using a formal tone with at least a minimum amount of courtesy.
A common format is as below:
Dear [ Mr. / Ms./Mrs./ Dr. ],
I hereby submit my formal resignation from the post of Senior Service Manager, Cruxotee Works Ltd., Bhopal. My final day in office with CWL will be March 31st 2018.
I express my gratitude for being able to thoroughly enjoy my role in the capacity of Senior Service manager with CWL. It was a great learning opportunity with respect to customer support and expansion of our services. I was also endowed with some responsibilities in the sales wing and they taught many valuable lessons that are sure to help me in my career ahead.
In the end, I wish to extend my assistance to all the relevant ongoing works during the notice period, that is, last thirty days of my service. Further, I also avow my support for my reliever who is likely to take up my service responsibilities from here. I assure I will be only one phone call away in case you need my assistance in any other matter.
I wish CWL all the best and hope it attains new heights in future.
Your sincerely
Signature
Name
Employee No.
Chamber/ cubicle/ workstation
CWL, Bhopal
Business Letter Format With Example
The following example of a formal business letter is self explanatory in terms of the format. The best way to gain from this is to write at least 5 business letters in the same format, each time just varying the subject.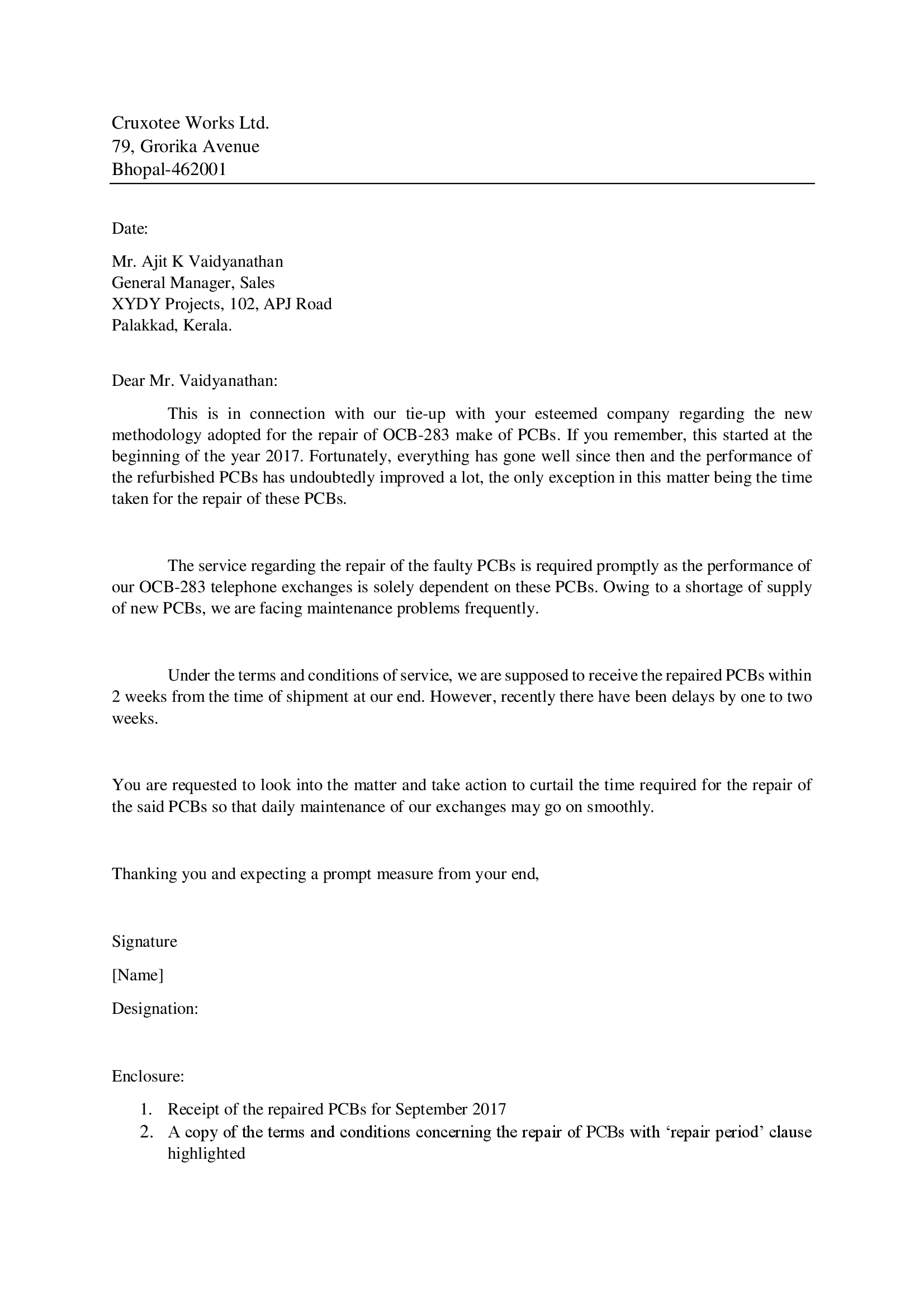 Try Your Hand at These
Make it a practice to write a few formal letters every week. Following are some practice questions. Besides, help people by writing actual formal letters for them. This could be a kind of internship for you. Doing so, you stand to gain knowledge about the institutions and organizations you write for.
Write a formal letter to the editor of a daily tabloid regarding the garbage problem in your locality.

How, as a manager of your wing, will you seek an apology for the misbehavior of your staff with another wing in a formal letter format?

How will you file a complaint to the principal in a formal letter format regarding bullying in the class?

Write a formal letter to the principal of your college requesting issue of character certificate.

Write a formal letter to People Welfare Society in your locality for taking measures to maintain cleanliness in public parks.
How to Write Letter for Reimbursement
Situation:
Owing to an ongoing project requirement, you were instructed to visit your Hyderabad office and complete a number of assignments within a week. As the tour was scheduled in a hurry, you could not claim TA, DA etc. before the journey.
Now, you have completed the tour successfully and it's time to claim the entitled allowances. Write a letter to your GM mentioning briefly about the tour and requesting to approve the said allowances.
Answer:
To
The General Manager, Materials & Store
PZPQ Ltd. Corporate Office, Halley Road,
New Delhi-1.
Sub: Reimbursement of TA, DA and journey fair – regarding
Sir,
As you are aware, I was instructed on 22nd Feb 2019 to visit our Hyderabad office and complete a number of assignments in connection with the ongoing construction project APP-II (3rd phase).
In this regard, I beg to state that as the said instruction was issued only a day before the journey date, I was unable to claim TA, DA and the journey fair before I started for Hyderabad. However, I bring to your kind attention that I visited our Hyderabad office as instructed and disposed of all the works allotted to me before schedule.
Sir, now that I have returned, I hereby submit my claims for TA, DA and the to-and-fro journey fair along with the tour-diary. The tour-diary contains the details of all the completed assignments and fairs involved and other entitled allowances.
I, therefore, request your honour to kindly approve the claims submitted by me and issue instruction to the accounts department for a timely reimbursement.
Thanking you Sir,
(Suprajit Agrawal)
Manager, Materials & Store
Employee No.: 01234567
Enclo:
Travelling Allowance form (duly filled up)
Daily Allowance form (duly filled up)
Flight Tickets (Round trip: Delhi to Hyderabad and return)