We are living in a time when home moms and students have become writers – their English is good enough or not but true, they generate money from their writing. And believe me! This is the best time to be into this. There are umpteen number of free creative writing courses to help you.
However, nothing is easy when competition is at its peak. If your writing is either prone to errors or boring or not engaging, you are not going to make a cut.
I just reasoned why a new writer should take a free online writing course. Online moneymaking being at an all-time high, hone your writing skills and grab the opportunity with both hands.
Sifting through the most basic to the extent of MIT and Harvard free online courses, we covered 10 best free creative writing courses for new writers based on:
The importance of basic grammar
Need for sentence improvement
Ways to enhance imagination
Improvement with choice of words
Requirements of different niches of writing.
These online courses are absolutely free and some of them might only need you to sign up with your name and email.
Moreover, the courses have been arranged in an order that helps new writers to build up the basics of writing slowly, but surely. After completion of these courses they may choose to opt for more serious and sophisticated stuff online.
So, without much fuss, let's enter the action:
Opening Image by Anne Karakash from Pixabay
A General English Writing Course
Let us begin with a very basic writing course on Alison that is absolutely free. I chose this as the first one so that you could just get into groove with the very basic English writing skills.
This course starts with the fundamental knowledge in writing and in the span of its 7 modules, covers the rudimentary principles of story writing, poetry writing and instructional and opinion oriented writing.
Besides, it also discusses writing in detail about a topic and reflective way of analyzing and writing.
English Writing Course on Alison
Writing What You Know
This free creative writing course drew my attention only because of its unique course topic. It says – A course that awakes you to good writing.
It teaches you to write about topics that you have come across in your own life. My most important reason to choose it was based on the fact that many budding writers as well as seasoned ones fall prey to writers' block very often.
However, having completed this course, you will definitely never run out of ideas to write on. After all, your own life is such a big store house of events. So, my recommendation is, go do it.
'Writing what you know course' on OpenLearn
Basic Grammar Course – Sentence Improvement/ Correction, Punctuation
This is a detailed 8 weeks course from University of Queensland on EDX platform where a beginner learns about basic English grammar and composition rules and techniques.
You get to learn word usages, sentence writing tips, various parts of speech and almost all other elements of basic grammar.
'English Grammar and Style' Course
A Free Online Course on Essay Writing
This 5 week course (College Writing 2.1x) from the University of California, Berkeley on EDX platform approaches the essay writing improvement part in steps.
First, it brushes up preliminary grammar and then teaches you how to craft your paragraphs. In the next step it takes you to writing thesis statements and finally comes to its main objective – improvement of essay writing skills.
Bet you'll enjoy every bit of it.
UC Berkley Essay Writing Course on EDX
An Absolutely Free Creative Writing Course
When you click this link and start reading about the course, the first sentence is, "Are you a beginner writer?" You can well understand that the course is one hundred percent for you if you are a beginner.
As you move on, you will get instructions on how to write short stories, Point of view (POV) writing, character development, dialogue writing, poetry writing.
You will even get a glimpse of the existing markets of writing, opportunities and the contests where you can participate.
The Crafty Writer Course on Creative Writing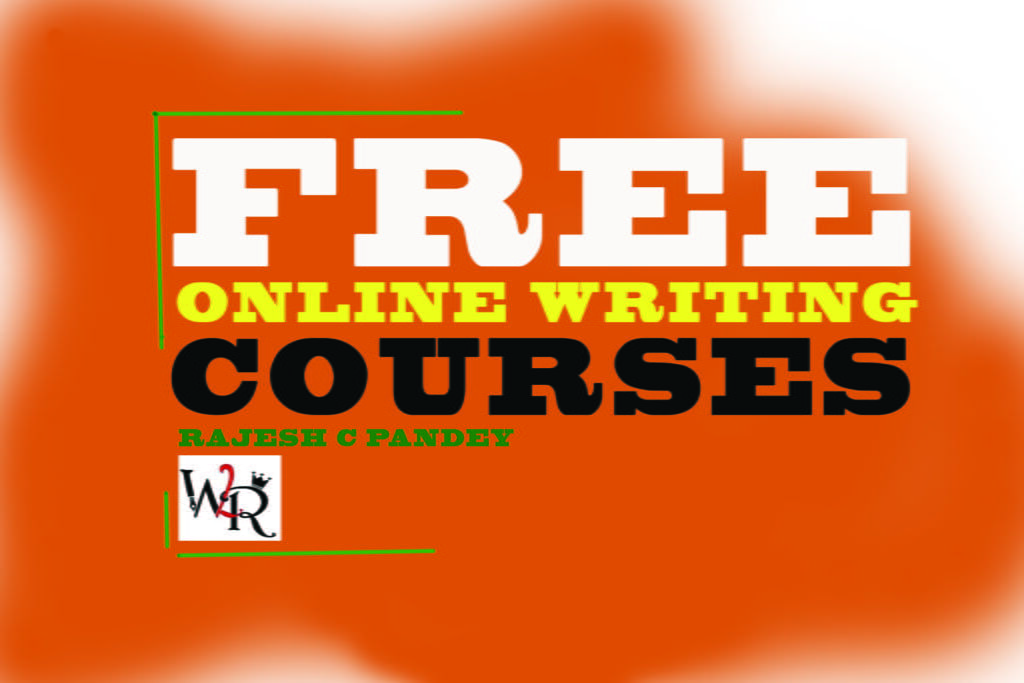 A Short Story Free Online Writing Course
The beauty of this free online course from MIT open courseware is you can download all the material, with a limitation of some audio and video components, and make it a self-paced course.
MIT means quality. I found the assignments and daily writing exercises here really valuable and that made me believe that by the time you finish this course you'll at least have developed a fairly good basic skill in writing short stories.
Short Story Writing Course from MIT Open Courseware
Free Online Writing Course on Business
This is also a very generic course in business writing on Alison's platform. Though beginner level, this 2-3 hours duration course makes you understand how you should communicate in the world of business.
It then introduces the learner to succinct and clear form of writing that enables a business writer to get his message across.
You will at least be able, at the end of this course, to write a professional looking business letter.
Free Online Business Writing Course on Alison
SEO Writing Free Guide
With 21,377 shares on social media, I think there are few other SEO guides that would dare match Brian Dean's SEO guide for 2020. There are 8 chapters and a bonus one wherein state-of-the-art SEO tips and tricks are discussed in exhaustive details. An avid learner, hats off to the maestro, can savour SEO secrets to her heart's content absolutely free of cost.
Brian Dean's SEO Guide for 2020
Free Online Creative Writing Course in Screen Writing
This free course teaches a new writer the basics of screenwriting. Those interested will be learning through a mix of theoretical analysis and practical exercises.
In the process, you will come across things like basic plot, character development, scene creation, importance of dialogue and the entire workflow associated with screen writing.
In the end you will learn formatting and finishing your first draft.
Screen Writing Course on Future Learn
Power Words
This is not a course. It is in fact better than a course. It's a massive guide on use of power words – the words that give a jolt, strike a chord and spellbind the reader. As you learn them and start using them you'll gradually understand their significance in the web writing zone and new internet parlance.
And the guide is the king of web writing and blogging – none other than Jon Morrow. He has a knack for creating most engaging posts.
Jon Morrow's Guide on Power Words
Take Any, Some or All of These Free Creative Writing Courses
While choosing best free online writing courses for new writers, there was always a whisper going on in my ears about whether new writers would register for any of the suggested courses.
Whether or not you take these courses is a matter with your daily life, available time and how much you want to improve your writing skills. Nonetheless, I recommend these courses if you are a new writer with serious career intentions.
New bloggers and freelance writers are often plagued with a feeling that a money loot is going on in these fields and that there is nothing easier than earning by writing on the web.
But friends, ask those who are earning good money as a blogger or a freelancer. And they will tell you how they have trained themselves and honed their skills by painstakingly burning midnight oil.
My sincere advice is that you should go for such courses as will strengthen your basics as a writer. And post completion you will be ready to chisel out your skills with the help of more sophisticated courses.
So, please comment on the course/courses you took.
I Promise…
Whenever I stumble upon a good free online writing course I will definitely add it to the list here. So keep visiting. Meanwhile, I'll try to create a list of free writing courses with certificates.
#ContentCreators #WritingTips #writingcourses