Do you know how to write a letter? If you are studying in 5th to 10th standard and want some kind of help with letter writing, this post is for you. Here we shall learn the letter writing skill through 3 examples.
The examples will tell you how you can write a letter by following a format. If you remember the format, you will be able to write any kind of formal or informal letter easily.
So, without wasting a second, let's have a look at the formats.
Formal Letter Format – Different Types With Examples
How to write a letter to your friend in 250 words
Question: Write a letter to your friend in 250 words inviting him to visit your town and stay with you at your home during the ensuing summer vacations.
Answer:
Dear Tanu,
Thanks a lot for your letter. It was nice to hear about your result. I am very happy for you. You had worked hard this time and your final examination's result amply proves the same.
Everything is fine here in Delhi. My parents and Raj are all happy and in good health.
Sorry to say but my real purpose of writing this letter is a bit different. I still do not know about your plan for the ensuing summer vacations but I have something in mind and am going to state the same quite straightforwardly.
In fact, friend, I think it has been long since we met last year. In addition, you will be free of academic pressure during the vacations. I have also completed almost all my homework and will be totally stress-free. So, why not meet this summer vacation and have fun all the month?
Write to me about what you think regarding this. If everything goes as planned, we may also visit Nainital, Almora and Ranikhet during the vacations. After the end of the pandemic, life has come back to normal and there is a lot to visit and see in the capital itself. I'm already getting goosebumps to think of the moment you will arrive here.
So, do not think much about it and just send me a confirmation so that I can make all the arrangements.
Convey my regards to uncle and aunt and love to Monu.
Waiting for your reply mail!
Lovingly yours
Darshita
The Method
Address your friend
Thank your friend for her last letter or ask her why she has not written for a long time. Ask about her parents, siblings etc.
Next, tell her about your parents and other family members.
Share your plan – how you two will enjoy in the town or go on a tour.
Request her to visit you.
Convey your regards for your friend's parents and elders of the house and love for the younger members.
Close the letter on a candid not prompting for a quick reply.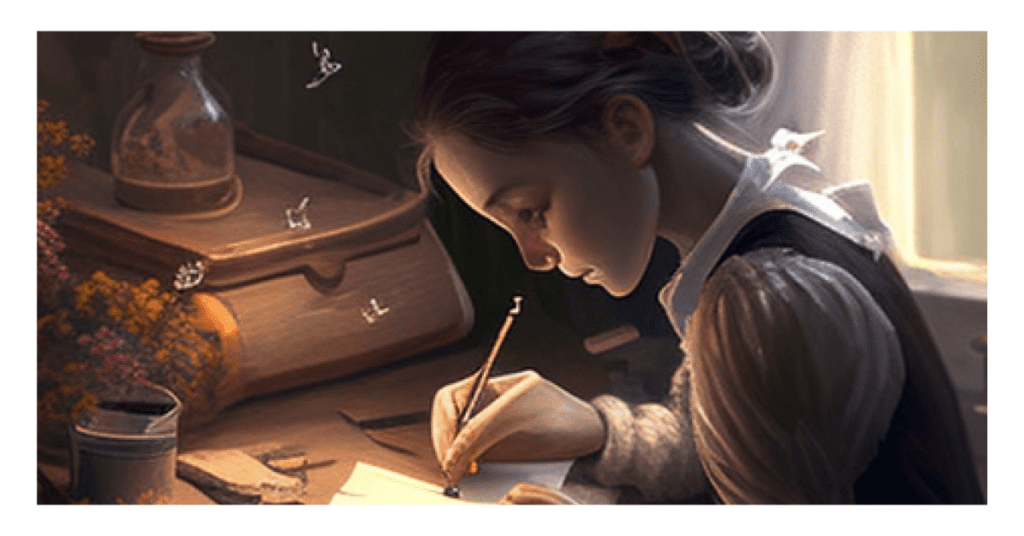 Three Perfect Cover Letter Templates to Get Your Resume Read and Shortlisted Fast
How to Write a Letter to the Editor of a Newspaper
Question: Write a formal letter to the editor of a daily tabloid regarding the garbage problem in your locality.
Answer:
To
The Editor
[Newspaper name]
[City name].
Sir,
Subject: Excessive garbage accumulation near [Name of the residential area], [Landmark], PIN- [Zip code]
This is to bring to your kind notice that heaps of garbage have accumulated near the …….. park in the …. locality. As you will notice from the attached snap, the hugely detrimental debris consists of used plastic bags and containers, kitchen waste, scrap paper, and discarded cartons. This, if allowed to accumulate further, is likely to infect the nearby population with diseases. It is already spreading out a foul and nauseating smell in the surrounding areas.
In this regard, I beg to state that in spite of frequent complaints by the local people, no measures have been taken up by the authorities as of now, and inhabitants of the ….. colony have to continually bear the brunt of the poisonous diffusion coming out from the debris.
I, a dweller of the said colony, request your honor to kindly take up the matter with the concerned authorities and highlight the problems of the local people through a column in your esteemed newspaper. Only then will the local administration wake up and take proper action in the matter.
Yours faithfully
[Signature]
[Your Name]
Full Address:
[House No. Street- , ]
[District: State: ]
[PIN: ]
Contact Mobile number:[ ]
Contact e-mail: [ ]
How to Write a Letter to Your Friend Requesting Him to Visit Your Village
How to Write a Letter to the Principal of Your School
Question: Write a letter to the principal requesting for a sick leave of two days.
Answer:
The following actual letter written by a student shows the writing blocks.
She has, for convenience of the readers, indicated what should be written in the blocks.
I have intentionally chosen this imperfectly written letter so that I can point out some mistakes.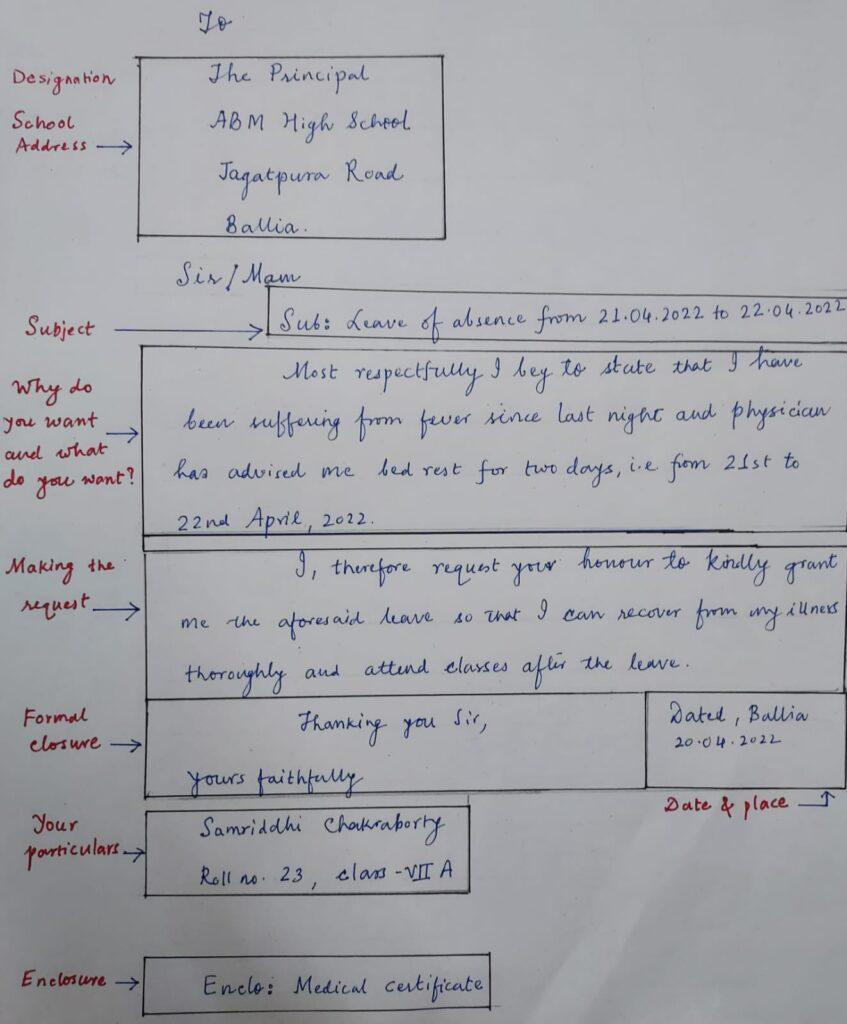 In the subject line she has written 'leave of absence' which you may change to 'sick leave' because your question says so.
In the 'formal closure' part, you should add an extra sentence putting in some words of obligation. Say, "I shall remain grateful for your kind approval."
Other blocks are self explanatory. Further, if you have any doubts, you may ask in the comments section.
Common to Every Letter
There are some things common to all letters.
Name of the addressee or designation (Mrs./Mr./Ms.)
Address to which the letter is being sent
Date, Place
Salutation (Dear, Respected, My dear etc.)
Body of the letter
Formal or informal closing
Sender's name and/or signature.
Start Your Letter Writing Practice Here
The following are some questions that will help you practise with writing some formal and informal letters:
Write a letter to your friend in 200-250 words telling him about the study techniques you used during the last examination for scoring high marks.
Write a letter to your class teacher at the time of passing the last examination of the school, appreciating the efforts of all the teachers and sharing good memories.
Write a letter to your friend describing life during the lockdown in pandemic times.
Write a letter to a hospital chief requesting to discount the total bill amount to whatever extent possible in connection with a kin's indoor treatment therein.
Write a letter to the librarian of your school to allow you to borrow a book for two months instead of the usual two weeks.
Write a letter to your sports teacher as the students' union secretary to allow the union to host an intra-school debate competition.
To go through various kinds of letters click a link here.
Recommended >> Visit Here for All Kinds of Writing Help for Students